Dr. Griffin, DVM
Veterinarian
Dr. Griffin attended Auburn University 1978-1984 and graduated with his BS and DVM. Dr. Griffin started working at Wilhelm Veterinary Clinic in Sarasota Florida. Eventually, he traveled to Locust and purchased Albemarle Animal Clinic, later opening West Stanly Animal Clinic. He is happily married to Dr. Kay Griffin with two sons, Richard and Scott.
Dr. Griffin has four dogs: Daisy, Mia, Angus, and Bonnie. He has two cats: Keke and Tubby, along with three horses and chickens. He enjoys his time at Crossfit, cooking on his big green egg, reading, and playing golf in his free time.
Dr. Lane, DVM
Veterinarian
Dr. Lane was born in Johnston County and moved to Stanly county in 2015. She graduated from North Carolina State University of Veterinary Medicine in 2006 and joined West Stanly Animal Clinic in August of 2014 and enjoys working with all of her patients.
Dr. Lane states that her Kindergarten teacher asked her class "what do you want to be when you grow up?" and she answered "a veterinarian or a horse trainer." She has always loved science and has been curious about how things worked and helping animals, so it just seemed like the perfect fit.
Her favorite part of her job is watching a sick animal recover and go back to being the loved member of their family that they were before. She also enjoys educating people on how to make the best decisions for their pets so that they can live a long happy life!
Dr. Lane lives with her husband in Albemarle and has a grown daughter and shares two young stepsons with her husband. She and her family have a Yorkie-mix Bonnie and a Siamese-mix named Betsy. In her spare time, she loves riding motorcycles, shooting and collecting guns, and listening to live music – preferably local bands.
Dr. Osborn, DVM
Veterinarian
Dr. Osborn is originally from Stanly County and graduated from North Stanly High School. She attended Gardner Webb University receiving a BS in Biology. She gained much experience as a veterinary Assistant after college and later attended NC State's College of Veterinary Medicine graduating with her DVM in 2008.
Dr. Osborn joined our veterinary team in August 2016. She enjoys just about all aspects of veterinary medicine including preventive medicine and surgery.
Dr. Osborn has a wonderful family with her husband Steven, three boys (Bryce, Blake, and Isaac), and two dogs (Riley, and Sierra). In her free time, she enjoys spending time with her family and friends.
Rachel Williams
Veterinary Assistant
Rachel is from Stanfield and graduated from West Stanly High School in 2011. Her love of animals brought her to being part of the West Stanly team in September of 2016.
The favorite part of Rachel's job is having the opportunity to ensure her patient's health during and after surgery, as well as helping clients establish great dental care for their pets.
Rachel has an American Bulldog named Buddy, a long-haired Chihuahua named Cotton. She enjoys going on trips to the mountains with her husband and dogs.
Morgan Hooker
Veterinary Assistant
Morgan is from New London, NC, and is the oldest of three girls. She graduated from Pfeiffer University and has a BS in Biology.
Morgan chose this profession because she has always had a love for animals and also enjoys helping people, something she can combine together in this ideal role. You can find Morgan at West Stanly, where her favorite part of the job is the versatility it has to offer as well as the client education aspect.
In her spare time, she likes going to the beach and also enjoying the sport of rodeo.
Sara Poplin
Veterinary Assistant
Sara has been a Veterinary Assistant with West Stanly Animal Clinic since April 19th of 2018.
She was born and raised in Stanly County, Sara started as a kennel assistant in 2012 to help pay for college. After that, she stayed in the vet world since she loved helping animals.
Sara's family consists of her two twin boys who keep her on her feet at all times! She also has 6 horses. Whenever she isn't working, she and her husband love to go trail riding and camping.
Shirely Davis
Groomer
Shirely has been a professional pet groomer and business owner since 1998 and has been grooming at West Stanly since 2015!
She started her grooming career in 1973 at the age of 14 and is still showing and grooming today. She also began an apprenticeship in Leading Toy Poodle Kennel in 1976.
She decided to groom pets at West Stanly so that she had the opportunity to work with a great vet team and techs.
Shirely knew that she had chosen the right profession when she was at her first week working a Show Poodle Kennel and it was never felt like it was work – she enjoyed herself with all aspects of working with the dogs.
When she's not working, Shirely raises breed & show champion australian shepherds that compete in AKC shows, agility, herding, obedience and most importantly – all around pets!
Her family is made up of her husband Tim, their two daughters, six grandchildren and two sons-in-law.
Uwharrie Australian Shepherds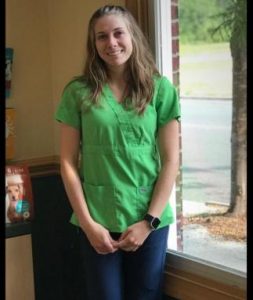 Jessica O'Reilly
Receptionist
Jessica grew up in Stanfield and graduated from West Stanly High School (where she met several of her co-workers), eventually moving to Albemarle. She joined the West Stanly team in 2017 and has enjoyed being one of our friendly receptionists.
While Jessica loves being able to work with clients and their pets, she truly enjoys establishing bonds with all clients and having the ability to help educate them.
Jessica lives with her boyfriend, 4 dogs, 4 chickens, 2 snakes, 5 fish, a hedgehog, a bearded dragon, and a chameleon. In her spare time, she enjoys bargain shopping and caring for reptiles.
Elizabeth Stancil
Receptionist
Elizabeth was born and raised in God's Country down below Stanfield, graduating from West Stanly High School in 2011. Elizabeth joined the West Stanly family in October 2016 and loves the social environment that her position provides as she gets to meet new clients and patients every day. Not only are meeting new clients a favorite part of her job, but she also loves doing paperwork and answering the phones.
Her favorite thing at the end of the day is coming home to her Australian Shepherd Kylie who is her pride and joy.
Elizabeth has a younger brother and a niece. In her spare time, she enjoys reading, traveling when she can, singing and spending time with her family.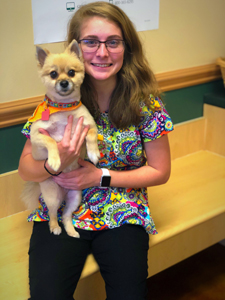 Dana Huffstetler
Receptionist
Dana has been a receptionist at West Stanly Animal Clinic since September 1st 2020.
Born and raised here, Dana is a senior at West Stanly High School and is currently taking the veterinary assistant course. Her favorite thing is that animals may come in sick, but she gets to help make them better!
Dana was raised around animals, so wanting to work with them as a career came as second nature to her.
When she's not at the clinic, Dana enjoys fishing and hunting.